…gained in the exotic locales of Italy and Hawaii before our founder moved his passion for coffee to Portland – the country's most renowned roasting region.
Those years of professional coffee experience allow us to offer only the highest quality coffees, each roasted to perfection daily in small batches to ensure that Portland Coffee Company offers the most delicious, highest quality and freshest coffees for your tasting pleasure.
In addition, by saying "yes" to Portland Coffee Company, you are saying yes to some of the finest Organic Coffees available today.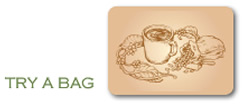 Try it and taste for yourself. Once you've experienced the simple luxury of some of the world's tastiest coffees, you'll find that you, too, will fall in love with your "vacation in a cup" – even when the real world keeps you right at home.
Learn More about Coffee
Watch These Short Videos